Reverse
Cycle
Ducted Reverse Cycle Systems
Ducted reverse cycle refrigerated air conditioners consist of a compressor, fan and heat exchange coil and use refrigerant to cool or heat air. This conditioned air is then distributed throughout the home via insulated ducting to a series of ceiling or floor outlets. Zones can be incorporated into the design of the system allowing flexibility to heat and cool only certain areas of the home leading to reduced overall running costs.
Inverter Technology
In Australia now a days because of minimum energy performance standards (MEPS) the majority of domestic reverse cycle units installed are DC Inverter Systems. This means they automatically regulate the voltage, current and frequency of the system to provide finer temperature control while using less energy, put quite simply, they use the minimum amount of energy required to provide the level of comfort desired.
Inverter and Conventional Comparison
Apart from its significantly reduced running costs, inverter technology has two distinct comfort advantages over conventional air conditioners:
1. Whether cooling or heating, it will reach the selected "Comfort Zone" more quickly, as shown in the diagram below. It can then maintain operating temperatures within the "Comfort Zone" at all times, which conventional air conditioners are unable to do – also as seen in the diagram below.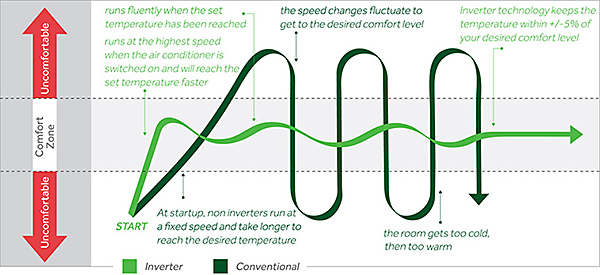 Panasonic 5 Star Canstar Blue Most Satisfield Customers 2016